A Netflix x Otis Entertainment Certificate Program – Apply by 4/28!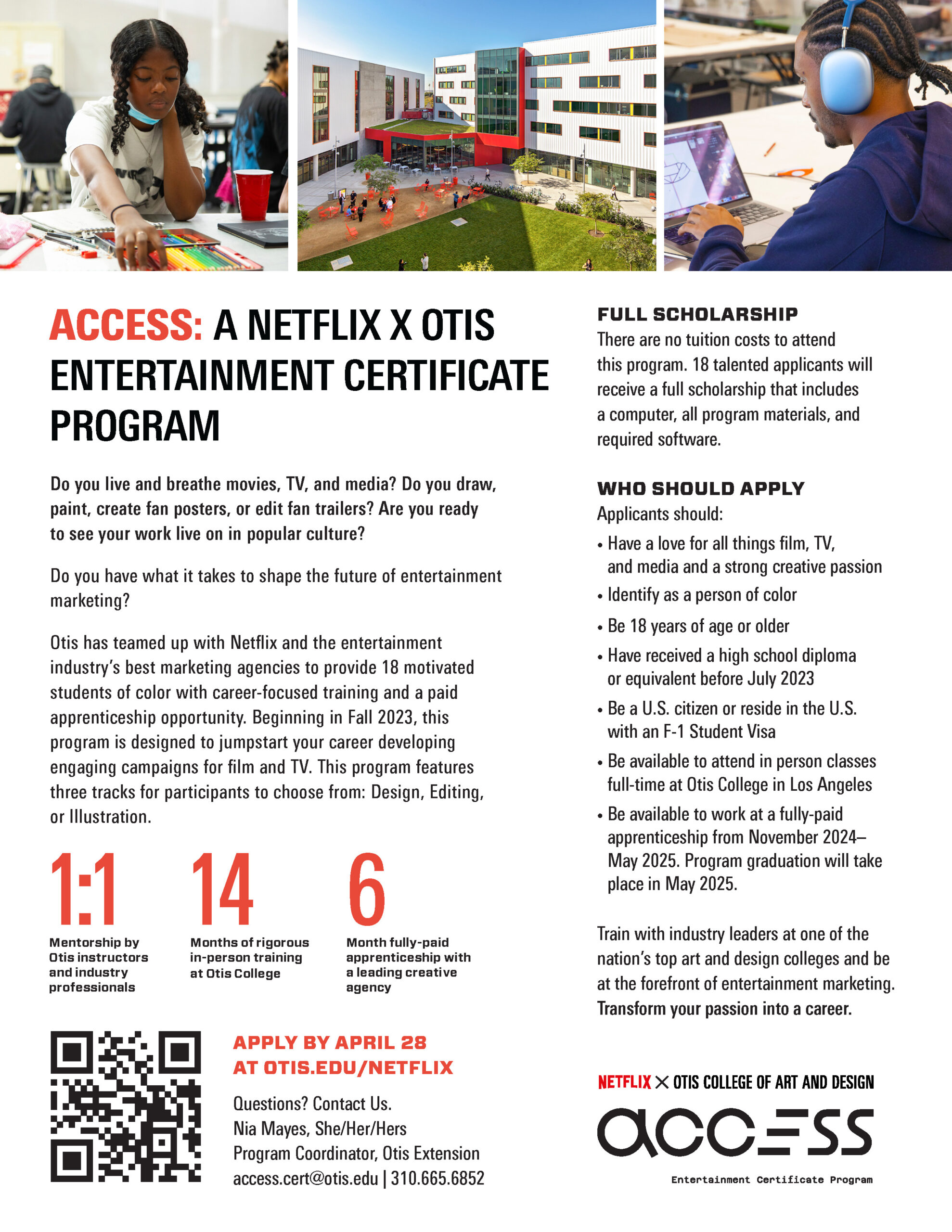 Do you live and breathe movies, TV, and media? Do you draw, paint, create fan posters, or edit fan trailers? Are you ready to see your work live on in popular culture? Do you have what it takes to shape the future of entertainment marketing?
Otis has teamed up with Netflix and the entertainment industry's best marketing agencies to provide 18 motivated students of color with career-focused training and a paid apprenticeship opportunity. Beginning in Fall 2023, this program is designed to jumpstart your career developing engaging campaigns for film and TV. This program features three tracks for participants to choose from: Design, Editing, or Illustration. Must be at least 18 years of age.
There are no tuition costs to attend this program. Students will receive a full scholarship that includes a computer, all program materials, and required software. Prospective students must submit their application before Friday, April 28, 2023 to be considered for a scholarship.
Check out the flyer for more information or email Nia Mayes, Program Coordinator, at access.cert@otis.edu.
For students interested in volunteering with Beach Cities Health District:
Beach Cities Health District is seeking an AdventurePlex Adventure Assistant. The Assistant must be available for a 6-month commitment once a week for the following shifts: Sat, 9 am-12 pm or 12 pm-3 pm and Sun 10 am-1 pm. Candidates must be 14 years of age or older. A TB test and drug screen and background check are required if participants are 18+. Duties will consist of ensuring that children experience a fun, educational, and safe environment by monitoring Adventure Room and/or Toddler Town. Volunteers will maintain a safe and clean environment, assist with various activities, (e.g.; Arts & Crafts, ropes course, rock climbing, Puppet Show, Costume Play, Story Time), assist instructors with setting up and organizing activities, and assist the front desk as needed. If interested, please fill out an application here and someone from Volunteer Services will contact you.
There is also a volunteer position available that supports this program that ends in the summer. If interested, please fill out an application at www.bchd.org/volunteer and someone from Volunteer Services will contact you.
For more information, please contact Crissel Rodriguez, Director of Real World Learning, at crodriguez@davincischools.org.
Click here to see other Real World Learning opportunities.