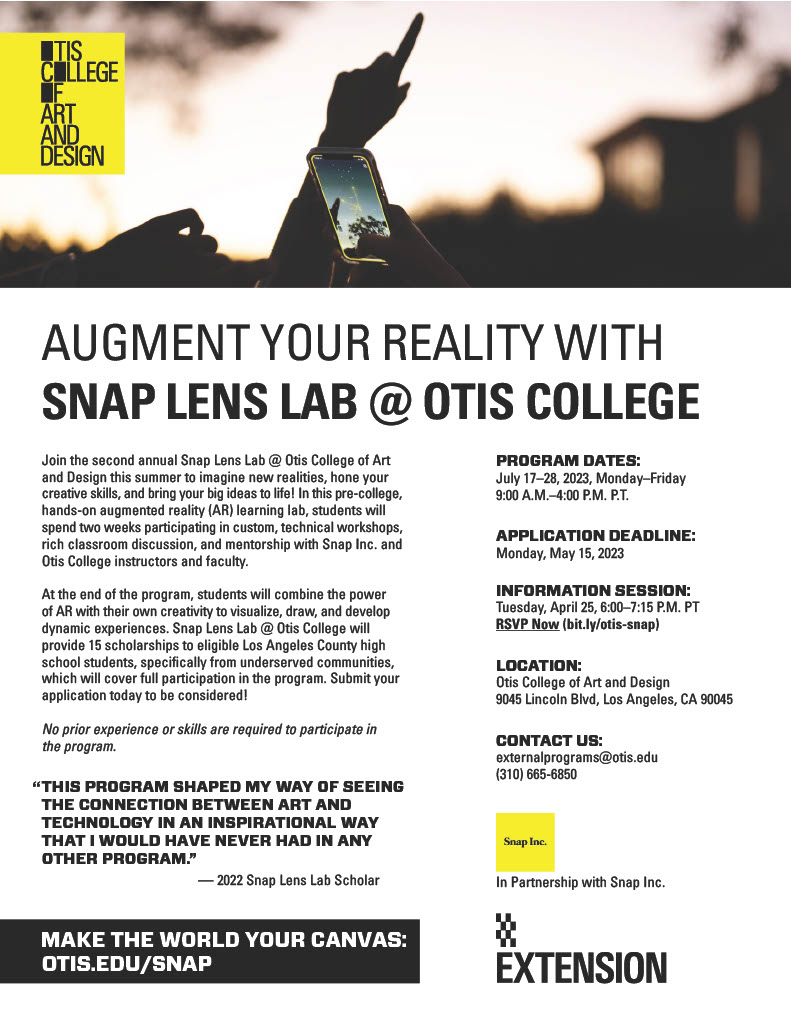 For a second year, Otis College of Art and Design and Snap are partnering on Snap Lens Lab @ Otis College, a groundbreaking two-week, fully funded, Augmented Reality (AR) workshop. Otis and Snap are teaming up to bring high school students in LA County from underserved communities an exciting hands-on learning lab, giving them the chance to combine the power of AR, 2D and 3D industry-standard design tools, and their own creativity to develop dynamic interactive experiences. Students will also connect with industry professionals to learn about potential careers in art and design that focus on these new technologies.
FIND OUT MORE TONIGHT! A Virtual Info Session on Zoom is being held on Tuesday, April 25th from 6:00 – 7:15 p.m. PDT. Interested students, their families, art educators, and counselors are invited to join our team, including a representative from Snap, Otis College faculty, and me, to learn program details and ask questions. RSVP here.
Quick Facts 
This Snap x Otis program is geared toward high school students in LA County from underserved communities, and 15 full scholarships are available.
Snap Lens Lab @ Otis College runs Monday through Friday, July 17th-28th, 2023 from 9am-4pm.
This simple application is due on May 15, so don't delay! No portfolio required, but be sure to think thoughtfully about the questions, so we get a true sense of the student. Students can submit their application to be considered here.
No prior experience or skills are required to participate in this program!
More information about the program can be found at: https://www.otis.edu/snap-lens-lab-otis-college
Have questions? Please contact Crissel Rodriguez, Director of Real World Learning, at crodriguez@davincischools.org.
Click here to see other Real World Learning opportunities.