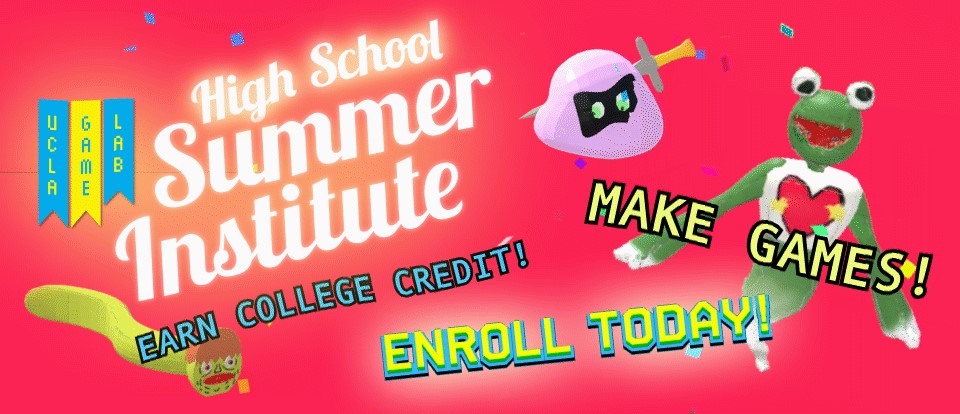 The UCLA Game Lab Summer Institute introduces high school students to game-making as an artistic practice, teaching them techniques and tools to develop analog and digital games that reflect their own creative vision. No previous game-making skills are required. Students with an interest in games and visual arts will find the curriculum especially rewarding–and those who complete the two-week program receive 4 units of college credit!
This summer we're featuring two sessions of the program: an online, virtual classroom version, as well as an in-person, residential program on campus at UCLA. The two sessions offer nearly identical instruction and game design projects—but now you can choose between an online or an on-campus experience! The dates for Summer 2023:
Session A (online, virtual classroom): July 10, 2023 – July 21, 2023
Session B (in-person, residential): July 23, 2023 – August 5, 2023
The Summer Institute program is committed to diversity, equity, and inclusion, and we welcome students of all cultural, racial, gender, linguistic, geographic, and socioeconomic backgrounds and physical abilities.
Registration starts February 15 at the UCLA Summer Sessions website. Spaces in both programs are limited—and they tend to fill up pretty fast. So if you're interested in learning all about game design this summer, please visit that site soon–and please read on to learn more about what makes the UCLA Game Lab Summer Institute so special!
Scholarships are available:
UCLA Summer Sessions Summer Scholars Support
Qualified students attending grades 8th – 11th in Spring 2023 in the state of California may be eligible for Summer Scholars Support, a need- and merit-based scholarship offered by the UCLA Summer Sessions Office. A limited number of full and partial scholarships are available to support enrollment in SCIP/eSCIP, one Summer Course, or a Precollege Summer Institute.
Summer 2023 deadline to apply: March 15.